Postcards from Pittsburgh - December 2000
Click on each picture for a larger version.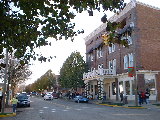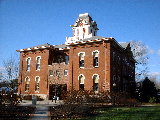 Dresden, Ohio
This quaint little town calls itself "Basket Village USA" and I think they could be right. The pleasant tree-lined main shopping street (left) contains such stores as Basket Barn, Hooked on Baskets, Bay-side Baskets and Basket of Dreams, all selling baskets of various shapes and sizes plus a vast range of basket accessories. The middle picture shows the world's largest basket - 48 feet long and it took 2,000 hours of work to build. On the right is the former school house, now Longaberger University where they teach - you've guessed it - basket weaving and basket selling.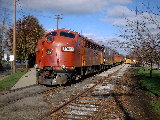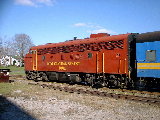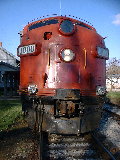 So, why was I in Dresden? A sudden interest in baskets? Of course not! I arrived on an excursion train run by the Ohio Central Railroad, a pleasant trundle through the countryside powered by this wonderful pair of GM 'F' locomotives.
2 December 2000