Postcards from Pittsburgh - January 2001
Click on each picture for a larger version.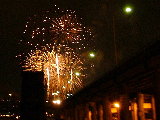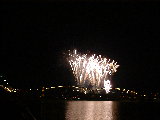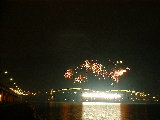 First Night
Not content with celebrating the new year with midnight fireworks (I was in a nice warm night club so I didn't see them!), in Pittsburgh we have another set of fireworks (and other events) on January 1st under the title "First Night". This year's impressive display had launch sites in Three Rivers Stadium, on a barge on the river, on top of the PPG Tower and along the Smithfield Bridge. Unfortunately my photographs don't really do this spectacular display justice.
---
A Big Auction
With the demolition of Three Rivers Stadium coming up soon, it was time for an auction of all the fixtures and fittings. Held in the Mellon Arena, it drew a larger crowd than they get for a typical ice hockey match there! The wide ranging catalogue included everything from squares of turf (I saw them sell about 250 of these at $200 each), rows of seats, pictures from the walls, signs, 25 foot long banners, lockers, televisions, a 6 foot by 8 foot "jumbotron" giant TV, cookers, cash registers, beer pumps and even a Ford dump truck.
The crowd got a bit upset as seats went for stupid prices ($800 for a pair or $500 for a row of ten) but there were thousands available and I'm sure the price dropped later although I didn't stay long enough to find out.
(No, I didn't buy anything.)
6 January 2001
---
A Flight To Seven Springs
I and a colleague took a Cessna 172 from Allegheny County Airfield for a little trip out to look at the ski resort at Seven Springs. Here runway 28 at Allegheny County lies ahead of us as I apply full power.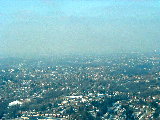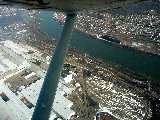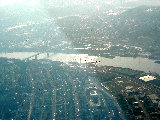 We headed south east over Pittsburgh's suburbs and factories and along the Monongahela River.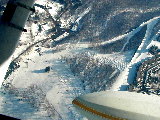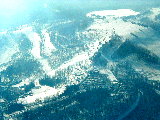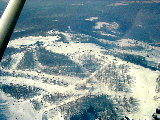 Twenty minutes later we were overhead the ski resort at Seven Springs.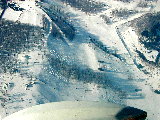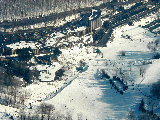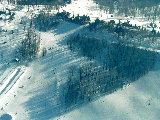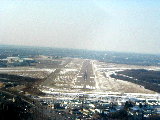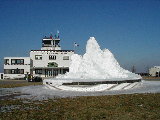 Back Home. Runway 28 lies ready for a smooth touchdown. (Honest!) Outside the terminal building we discovered someone had forgotten to turn off the fountain for the winter!
Many thanks to Graham for taking the photos while I piloted the plane.
13 January 2001