Postcards from Pittsburgh - The Three Rivers "Implosion"
or, Now You See It, Now You Don't
Click on each picture for a larger version.
For thirty years the Three Rivers Stadium has stood on the north shore of the Allegheny River in Pittsburgh, home to the Pittsburgh Steelers (football) and the Pittsburgh Pirates (baseball). On Sunday 11 February 2001 we say goodbye with a big bang, when it is demolished. For some reason they're calling it an "implosion" but when you see how close the new football stadium is you'll realise why an explosion is no good!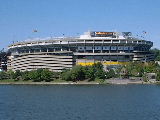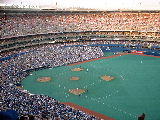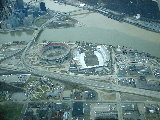 Before
Here we see a shot of the stadium from across the river, an interior view during the Pirates' last baseball game on a Sunny October evening, and an overhead view of it looking rather tatty with only one week left before destruction (Three Rivers is the one on the left). Note how close the new stadium is - It will be interesting to see how many windows they break!
---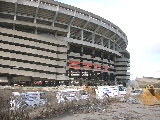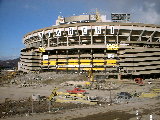 One Day To Go
One last visit, the day before demolition, with crews still busy preparing for the big day.
---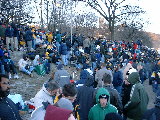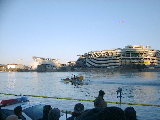 The Big Day
An excited crowd gathered in -15 Centigrade windchill, while police boats and the blimp patrolled the area.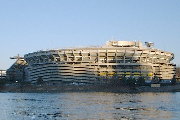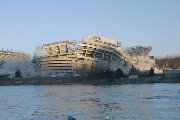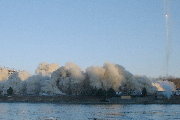 1 - 2 - 3
A series of bangs, a nerve-wracking pause, and then 31 years of history came tumbling down.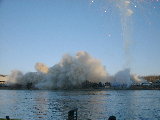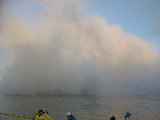 As the dust cloud rose and drifted towards us, Pittsburgh celebrated, as always, with fireworks.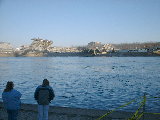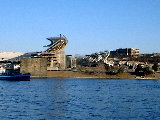 The dust cleared to reveal a mass of twisted steel and rubble. Note the gap between the debris and the new stadium - Apparently no windows were broken.
---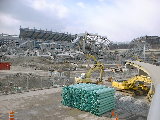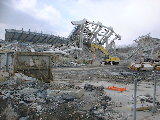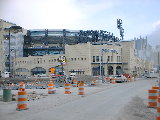 One Week Later
The big clear-up is under way, but there's still a lot of steelwork to cut up. Meanwhile work proceeds on "PNC Park" with just fifty days to go before the Pirates' first game.
---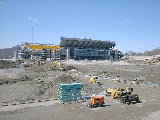 Gone!
Five weeks after the demolition, and there's very little left.
18 March 2001