Postcards from Pittsburgh - May 2001
Click on each picture for a larger version.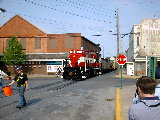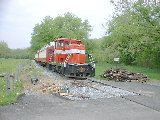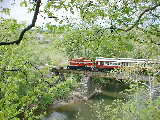 The Middletown and Hummelstown Railroad
I visited this small independent railway situated near Harrisburg, Pennsylvania for their "railfan day". They combine a commercial freight service with weekend scenic tourist trains. The connection to the main line involves street running for the freight services. The passenger trains head the other way to run through pleasant rural countryside. On the way back we all climbed a hill while the train posed on this bridge.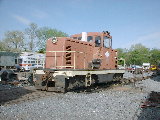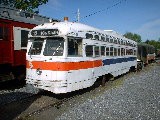 Stored in the yard at Middletown is a selection of diesel locomotives and ex-Philadelphia trams. They also have a Canadian steam locomotive under restoration in the shed there.
5 May 2001
---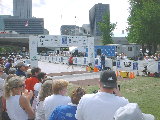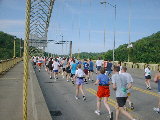 The Pittsburgh Marathon
I was involved in the running of the marathon, helping to provide radio communications facilities for the medical team. (Well it's a lot easier than actually running!) Here are some of the runners passing my station at mile 7 on the West End Bridge. With the fairly cool weather there were very few dropping out at this stage. (Last year on a very hot day many people were severely dehydrated by the time they got this far.) To my surprise, the bridge developed quite a bounce as the runners passed over it - more so than when the trucks and cars were crossing before the road was closed for the race.
Later I moved to Point State Park to see some of the leading runners cross the finish line.
6 May 2001

---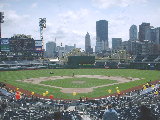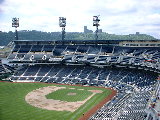 PNC Park
I popped in for a quick look at our new baseball stadium to find out if they've spent my tax dollars wisely. Much better than the old place, I think, and it would seem that every single seat has an excellent view of the game, not to mention the downtown skyline.

---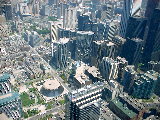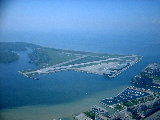 Toronto
A brief trip to Canada included a trip up the CN Tower in Toronto. Impressive views were to be had from the top despite the slightly hazy conditions.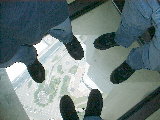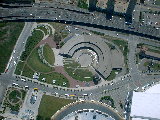 This former railway roundhouse, visible from the top of the tower, now houses the Roundhouse Brewery, which we visited next - I needed a drink after standing on the glass floor!
23 May 2001