Postcards from Pittsburgh - August 2001 - New York
Click on each picture for a larger version.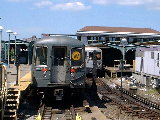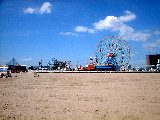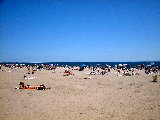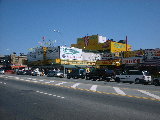 Coney Island
On the south shore of Brooklyn, just a subway ride from downtown, is this famous sea-side resort - like Blackpool only with sunshine! And tackier!!
25 August 2001

---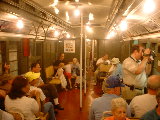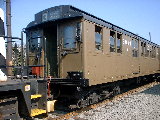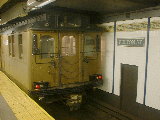 "D Types to the Docks"
A special enthusiasts' ride in this subway train dating from 1926, organised in aid of charity.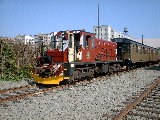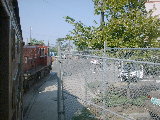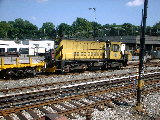 After a tour of a few out-of-the way lines under Manhattan, the special moved on to the 38th Street yard in Brooklyn, where the diesel locos used for track maintenance are based.
Finally, two diesel locos belonging to the South Brooklyn Railroad were attached to our train and we were hauled away from the electrified network and across streets (with a man with a red flag to stop the traffic - The locals looked pretty surprised!) to another yard at 39th Street, used when sending away trains for scrapping. The last train to carry passengers this way was an enthusiasts' tour in the 1970s.
26 August 2001

---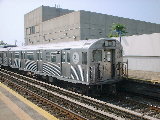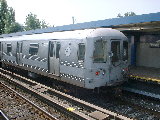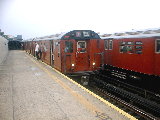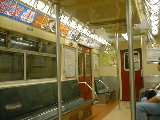 The Subway
Here's a selection of the rolling stock running on the New York Subway. On the right exterior and interior shots of the "redbird" units which are the oldest ones in regular service on the system, and are due to be withdrawn in the near future. They will be dumped in the sea off the Delaware coast to provide artificial reefs to encourage marine life.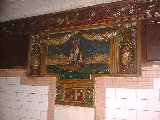 There is much of interest to see on the system besides trains. Here's the tiny surface building at Bowling Green station next to Battery Park, and two examples of the fine ceramic work, at 33rd Street on the 6 line and at South Ferry on the 1 and 9 routes.
August 2001

---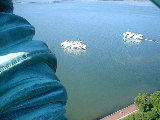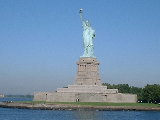 The Statue of Liberty
I joined the queue for the ferry before 8am in order to get a Crown Ticket so that I could climb up this steep spiral staircase inside the statue and check out the view from her crown.
29 August 2001

---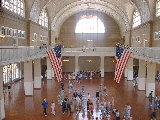 Ellis Island
The fascinating Museum of American Immigration is housed in the well restored buildings here.
29 August 2001

---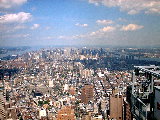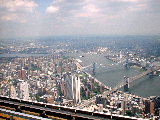 The World Trade Center
At last I managed to get up to the roof of the World Trade Center on a fairly clear day, for some superb views of New York.
29 August 2001

---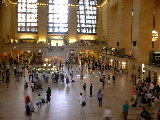 Grand Central Terminal
Another fine example of American railroad station architecture.
29 August 2001

---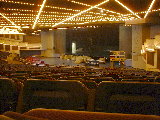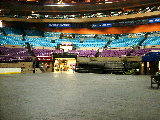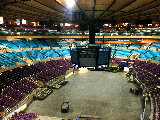 Madison Square Garden
I took a tour round this famous venue. It's hard to believe that this concrete floor is covered with ice for hockey matches. The amazing thing about the theatre (right) is that it is underneath the main arena!
30 August 2001

---
Intrepid Sea Air Space Museum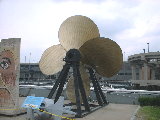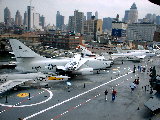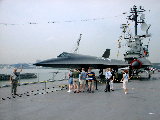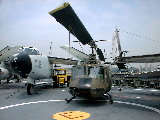 This museum is housed mainly in the aircraft carrier USS Intrepid. As well as lots of interesting exhibits inside they have a good collection of aircraft on the flight deck.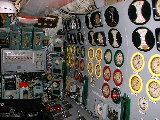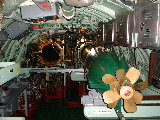 You also get to tour USS Growler, a guided missile submarine.
30 August 2001

---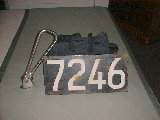 Souvenirs
You can't visit New York without bringing a few souvenirs home. Not for me the model statue of liberty though. Here's a handle off a redbird (you can see them in position in the interior view above) and the number plate off a 1957 vintage R-21 unit!
August 2001