Postcards from Pittsburgh - September 2001
Click on each picture for a larger version.



Heinz Field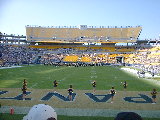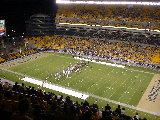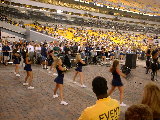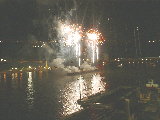 I went to the brand new Heinz Field, our new football stadium, to see how my tax money had been spent. It's almost impossible to get tickets to see the Pittsburgh Steelers, but the college football team, the Panthers, are less well supported so there were plenty of seats available. Quite an impressive stadium although not as good as PNC Park and we were very disappointed to discover they don't sell beer at college games!! From left to right:
The pitch from ground level before the match.
The game underway, while the crowd bask in the evening sunshine and enjoy the view of Mount Washington across the river.
All the players rush onto the field at the end of the match. (Pittsburgh Panthers 31 East Tennessee State nil!)
Cheerleaders.
It wouldn't be Pittsburgh if we didn't get some fireworks.
2 September 2001

---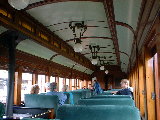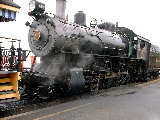 Strasburg Railroad


I travelled to central Pennsylvania for a long weekend and my first port of call was this nice steam railway where I had a ride in their Victorian-era coaches and a look round at their collection of old steam and diesel locos and railbuses. And who's that familiar friend sneaking into the yard on a test run?
14 September 2001



---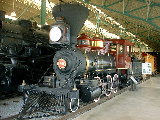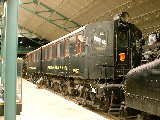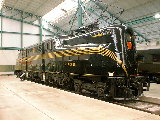 Pennsylvania Railroad Museum


Just across the road from the Strasburg Railroad is this impressive museum which has a very large collection of indoor exhibits of which these are just a few.
14 September 2001



---
Harrisburg, PA
Pennsylvania's state capital has some impressive buildings housing the state legislature. After recent events tours of the Capitol were not available, but they did let me wander into the lobby unaccompanied with an unsearched camera bag! So much for increased security!
The Capitol is not the only nice building in this small city.
15 September 2001
---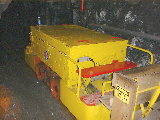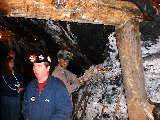 Pioneer Tunnel


A mining museum at Ashland in the Pennsylvania anthracite field. An interesting underground ride hauled by this mine loco with a guide who showed us the various methods used to mine anthracite. On the surface, a steam hauled ride along the line used to carry the coal away from the mine. Mining, both underground and open-cast was very important in this area. Interestingly, a few miles down the road at Centralia a seam is on fire, and has been for over twenty years. Only a couple of families have refused to accept the compensation terms and leave what is now effectively a ghost town.
15 September 2001



---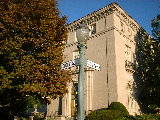 Hershey, PA


This small town is, of course, the home of Hershey Chocolate. The town was built by the Hershey company to house their workers. Even the street lights are shaped like Hershey Kisses. On offer to tourists is an explanation of how chocolate is made (They don't let you tour the actual factory any more), a tour of the town, an enormous shop selling all things Hershey, a park full of roller coasters and some impressive formal gardens.
15 September 2001



---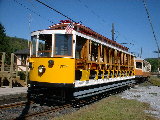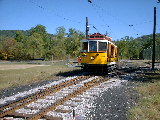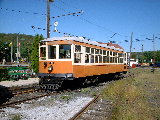 Rockhill Furnace Trolley Museum


Here I found many restored and unrestored trams, and some very friendly staff who insisted on showing me around the collection, and allowed me to drive the tram on the left along their two mile rural branch line, part of which was only opened to the public two weeks ago.
16 September 2001



---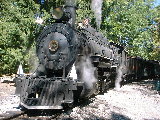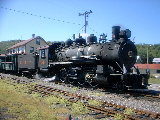 East Broad Top Railroad


Just across the road from the trams is this narrow gauge steam line which offers a pleasant trundle through the forest. (They share the same yard, note the mixed gauge track in the middle tram picture.) Surprisingly this railway is a private commercial enterprise, and is not run by volunteers.
16 September 2001



---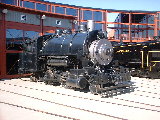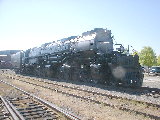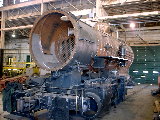 Scranton National Railroad Museum


Up in the north east corner of Pennsylvania is the former railway town of Scranton, where the former Lackawana Railroad works has been restored and converted into a very impressive railway museum and restoration centre. Here are just three pictures of their collection, including a non-operational "Big Boy" in the centre picture, and a boiler being refurbished in the superbly equipped workshops.
17 September 2001



---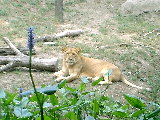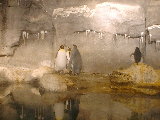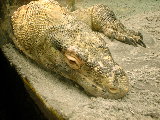 Pittsburgh Zoo


That reminds me of a favourite poem:
The lion is the king of beasts,
And husband of the Lioness.
Gazelles and things on which he feasts,
Address him as "Your Hioness".
There are those who admire that roar of his,
In the African jungles and veldts,
But I think wherever a lion is,
I'd rather be somewhere else.
Ogden Nash
23 September 2001