Postcards from Pittsburgh - Groundhog Day
Click on each picture for a larger version.

For those of you who haven't seen the film, I'll explain. Groundhog Day is the 2nd of February. On a hill called Gobbler's Knob near Punxsutawney, Pennsylvania, a groundhog by the name of Punxsutawney Phil emerges from his burrow at dawn on Groundhog Day. If he sees his shadow, then we are in for six more weeks of winter, if not then spring is just round the corner. Phil has been making these predictions for over a century now and he is always correct.
This year the unique date of 02/02/02 was officially designated as the Phillenium!
For those who have seen the film, it wasn't actually made in Punxsutawney but in Woodstock, Illinois.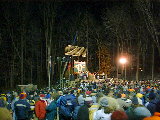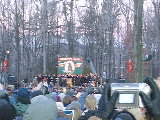 Gobbler's Knob
Left: By 5am the party has already been going for two hours, and the crowd is building up in sub-zero temperatures.
Right: At precisely 07.26 Phil emerges from his home and is shown to the crowd of about 40,000 before he tells his prognostication to the leader of the Groundhog Inner Circle (the gentlemen in top hats) who is the only person who speaks groundhogese. [This picture would have benefitted from a telephoto lens! Sorry.] This year he saw his shadow so winter continues.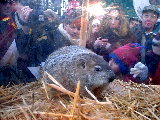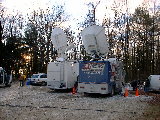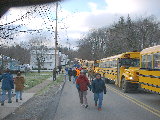 After the ceremony I made my way up to the stage to get closer look at this famous animal, who seemed totally un-fazed by the attention he was receiving. As you can see, this is an important news event broadcast live by satellite. Every schoolbus for miles around was brought in to carry the people back to their cars or to the other events in Punxsutawney itself, although it was quicker to walk.