Postcards from Pittsburgh - March 2002
Click on each picture for a larger version.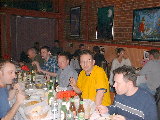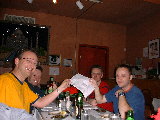 Payday Curry Club
At the last meeting of the Pittsburgh branch to be organised by your reporter, held in the People's Indian in Bloomfield, we had the ceremonial hand-over of the mailing list. Note my curry-stain-proof shirt!
14 March 2002
---
A Blue Ridge Excursion
Presented with an unexpected four day weekend I took a jaunt southwards to check out the Blue Ridge Mountains of Virginia. (Cue for a song? Maybe not.) Contrary to the forecast of rain and snow the weather consisted mainly of bright sunshine. Here's a few of the sights: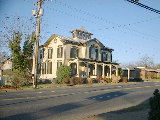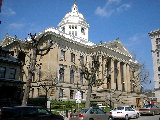 Buildings
The town hall in Fairmont, WV and a rather peculiar old house in Harrisonburg, VA.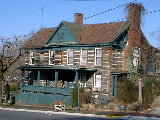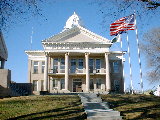 Wytheville (It's pronounced with-vill) has a number of interesting buildings. On the right is the Log House restaurant, where the interior decor matches the exterior and they serve excellent food.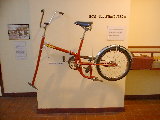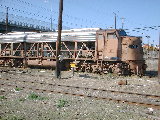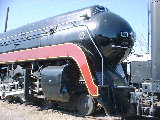 Virginia Museum of Transportation
I found this museum in the town of Roanoke while looking for some lunch. The have exhibits of all forms of transport, including railway locomotives in varying stages of restoration.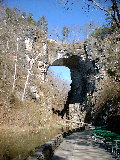 Natural Bridge
This amazing natural rock formation is over 200 feet high, and carries US Highway 11 over Cedar Creek.

The Blue Ridge Parkway
The Blue Ridge Parkway is a 469 mile long road along the top of the Blue Ridge Mountains. Construction was started during the depression in 1935 and the last part was completed as recently as 1987. At its northern end it joins with the Skyline Drive which runs through Shenandoah National Park. I drove along part of these routes - here's a view from the ridge, some deer by the roadside, and a grass fire. (Judging by the calm attitude of the forest rangers I presumed this was controlled burning of the grass.)