Postcards - October 2002
Click on each picture for a larger version.
Merseyside From Above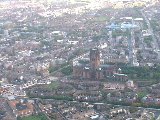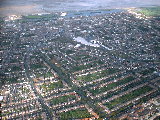 Back in the air at last! Conditions (intermittent showers) were not good for photography but here's a few shots from a brief local flight. From left to right:
The Anglican cathedral, looking eastwards.
Part of the City Centre, taken from above Mann Island. You can see Paddy's Wigwam top right and Lime Street station in the middle with the St John's Tower in front.
The seaside town of Southport with the railway station in the middle.
---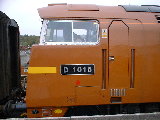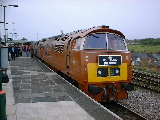 The Western Pilgrim
"D1015 Western Champion" was withdrawn from service by British Railways in 1976. Fortunately it has been preserved and recently restored to main line condition, and it provided a superb performance on this special train to Plymouth. Ironically, shortly after it was detached from our train at Bristol on the return journey, it was called upon to rescue a High Speed Train which had failed at Wootton Bassett.