Postcards - November 2002
Click on each picture for a larger version.
Flying Again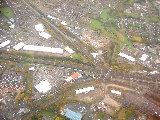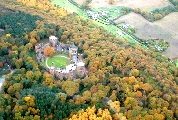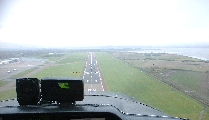 Another flight, unfortunately in rather hazy conditions. We headed southwards for a wander around northern Cheshire.
From left to right: Crewe North Junction, Beeston Castle, and final approach to runway 09 at Speke.
Thanks to my passenger John for taking the pictures.
---
The Northwich Dodger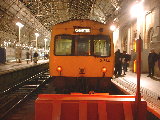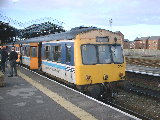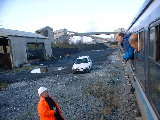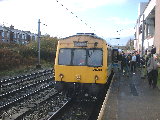 This railtour, organised by the Branch Line Society, took one of the last remaining class 101 DMUs (due to be withdrawn at the end of the year) on a trundle around a number of destinations in Manchester and Cheshire. From left to right - Manchester United Football Ground; Brenna Mond's works at Winnington; Chester; and Manchester Piccadilly.
---
A Trip To The Seaside (in November?)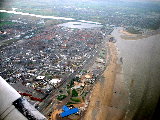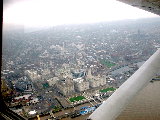 For my next flight I headed out along the North Wales Coast, once again in rather hazy conditions. From left to right:
We passed over Hilbre Island which is just off West Kirby on the Wirral.
The beach at Rhyl seems deserted.
Snowdonia in the distance, just before we turned round.
Nearly home - A shot of the "Three Graces" on Liverpool's water front with a very hazy view of the city behind.

My passenger and photographic assistant was Andy this time.

---
The Williamson Tunnels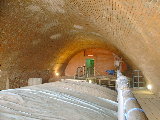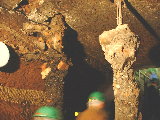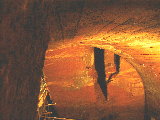 Joseph Williamson, the Mole of Edge Hill, (1769 - 1840) was an eccentric philanthropist who gave unemployed soldiers returning from the Napoleonic wars work digging pointless tunnels beneath Edge Hill and the surrounding area, a sort of underground folly. A tiny part of his labyrinth has been cleared out and is now open to the public. In the middle picture you can see two piles driven to support more modern buildings above.
You can learn more about Williamson from these two web sites:
The Williamson Tunnels Heritage Centre
Friends of Williamson's Tunnels