Postcards - May 2003
Click on each picture for a larger version.
Langley Mill Canal Basin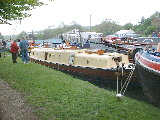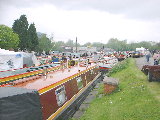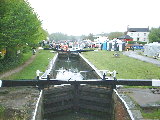 I took a trip to the Great Northern Canal Basin at Langley Mill on the Derbyshire/Nottinghamshire Border, where I found this Rally being held to commemorate the 30th anniversary of the reopening of the basin by volunteers.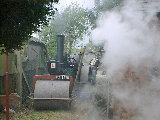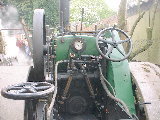 The main reason for the visit was to see Brian's Steam Roller on its first outing of the year. On this occasion it was being used as a stationary boiler supplying steam for the preserved pump house.
3rd May 2003
---
Ferry 'Cross the Mersey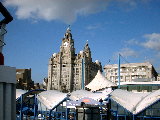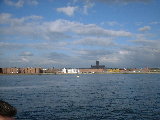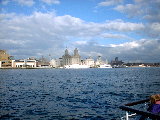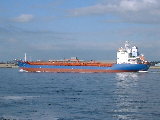 Visited by some friends I took them on the Liverpool tourist trail, starting with "the most famous ferry in the world". The Ferry is now aimed mainly at tourists, providing a "cruise" up and down the river (except during weekday rush hours when it still shuttles commuters across the river). An enjoyable trip with an interesting commentary, and plenty of shipping to look at as well as the famous waterfront.
10th May 2003
---
Magical Mystery Tour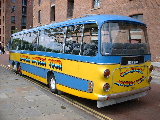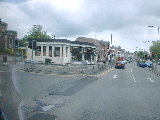 This tour of Beatles landmarks in a coach like the one in the film was very interesting. Amongst other things we saw the Empress pub in the Dingle - Ringo Starr lived just round the corner from here, and a picture of the pub appeared on the sleeve of his first solo album, Sentimental Journey, and - on the right - the shelter in the middle of the roundabout at the end of Penny Lane.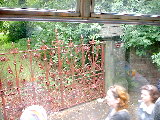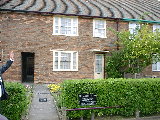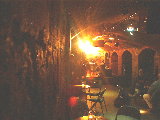 The gates of Strawberry Fields Childrens Home,
20 Forthlin Road, the family home of Paul McCartney, now owned by the National Trust and restored to its late-50s condition,
and finally a visit to the Cavern Club.
11th May 2003
---
MRRS Annual Bus Trip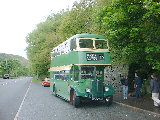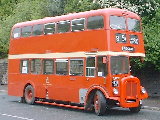 For this year's trip we took these two excellent vehicles (Thanks, Dennis) across the Pennines from Manchester to Keighley.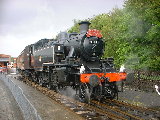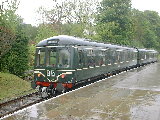 Our destination was the Keighley and Worth Valley Railway where we took steam hauled and diesel rides as well as visiting the various museums along the line. As you can see, the weather was pretty poor, but it didn't prevent us from enjoying a fine reunion.
17th May 2003
---
Flying Again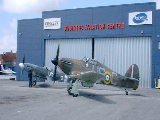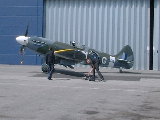 After what seems like a whole year of flying in haze, I headed down to the airport for a Sunday flight in bright sunshine. Before taking off I had a look at two distinguished visitors based at the airfield for the Llandudno Show.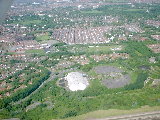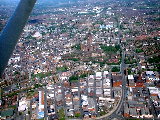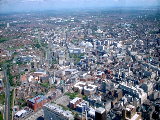 Once airborne I found superb visibility as I headed down the river, past the sadly neglected Garden Festival Site, the Anglican Cathedral and the City Centre.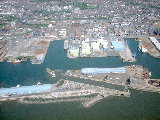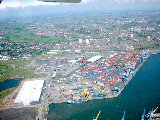 The docks look busy.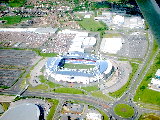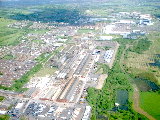 I flew to Horwich near Bolton for a quick look at the Reebock Stadium and the closed railway works next door. Behind the stadium all those cars are parked in the Middlewood trading estate. I'd rather be flying than shopping any day!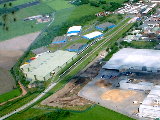 Finally, on the way home I took a shot of the sidings at Kirkby Industrial Estate that I visited last month on a special train.
25th May 2003
---
Crewe Works Open Day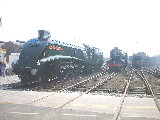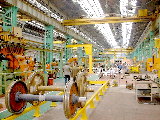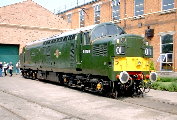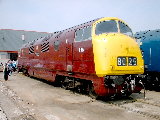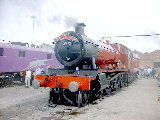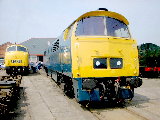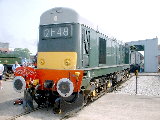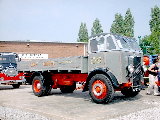 Here's just a small selection of the pictures I took at Crewe Works, where a wide selection of motive power, ancient and modern, was on display. An excellent day out in glorious weather.
31st May 2003