Postcards - March 2004
Click on each picture for a larger version.
Derailment at Bootle Branch Junction

The travel news said a freight train had been derailed at Huyton, where I live, but it was wrong, as the derailment was four miles away at Wavertree, very close to my place of work. The weather was not really suitable for photography as I climbed through the woods up to the boundary fence to snap some photos.
It would appear that a coal train from Gladstone Dock was coming off the Bootle line and was derailed as it crossed in to the sidings where it would reverse.
3rd March 2004




The Birch Coppice Pioneer

A railtour run by the Branch Line Society. The operator of the departure display was on the ball when we stopped at Kettering.
At Walsall 66128 (Correctly predicted at Kettering!) was attached to the rear of the train to pull us into Tasker Street freight terminal, the remains of the Midland Railway goods branch.
The main objective of the tour was a run along lines opened in 2002 on the route of the former Baddesley Colliery line (Closed 1989) and the Birch Coppice Colliery branch (Closed 1989). These lead to the TNT freight distribution terminal and are currently used by a daily train of Volkswagen car parts from Köln.
Now You See It ... Now You Don't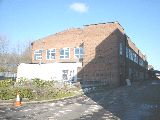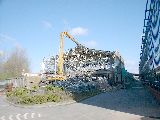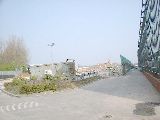 Redevelopment work at the Marconi site at Edge Lane, Liverpool involves the demolition of the former training centre.